BY JOHN HEGLIE, Special for the Leader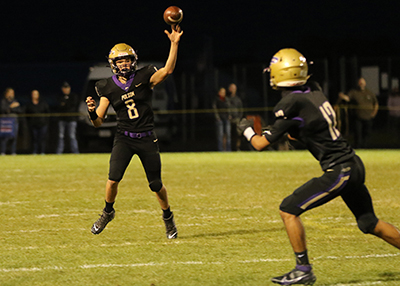 Football experienced a unique fall 2020 season that extended far beyond playing under the cloud of a worldwide viral pandemic. Statewide as well as local school records were reset by a quarterback in his inaugural season as well as by those among his receiving corps. In the season opener at Columbia Falls, both southpaw sophomore signal- caller Jarrett Wilson and his lead receiver Colton Graham would reset the single game Polson school record for both passing as well as receiving yardage. Wilson threw for 444 yards, obliterating the previous record of 310 set by Craig Bagnell against Stevensville back in 2007. Graham would catch a dozen passes for 251 yards, surpassing the previous mark of 248 set by Matthew Rensvold in 2016. Bagnell is currently head coach of the University of Mary Marauders. Rensvold is among the receiving corps on the University of Montana Grizzlies roster.
The season opener would be just a portent of things to come. Jarrett Wilson would throw four more games for over 400 yards, including a north of 500 yard performance against Butte Central that reset the school passing record yet again. By the end of the season, Wilson had surpassed three thousand passing yards, ranking him at the pinnacle of statewide passers as well as among the top 15 nationally among schools posting to MaxPreps.
Only Dakota Bridwell of Columbia Falls in 2016 has passed for more yardage in Montana Class A history. Bridwell's league leading 3,901 passing yardage was accomplished over the course of a dozen games that included three postseason playoffs. Jarrett Wilson accomplished his 3,116 over the course of nine games.
It should be noted that two of those nine entailed atrocious weather conditions. The midseason Libby match featured sheets of pouring rain, while the regular schedule finale against Hamilton was played in a snowstorm with limited visibility. Had more favorable weather conditions been present for those two contests, there is little doubt Wilson would have further enhanced the Polson passing attack with a higher cumulative tally. Add in his 89-327 yards rushing from scrambling or quarterback keepers along with his lone eight yard reception and Wilson has generated 3,450 total yards all by his lonesome.
On the receiving end of the spectrum, junior wideout Colton Graham not only reset the school receiving record in the season opener, but almost did it again in the Butte Central game as well. Graham would have attained the necessary yardage with a string of final frame receptions. But a downfield holding penalty on a 37-yard gainer scrubbed some of his accumulated net yardage that would compromise resetting a new record.
By the culmination of the season, Graham was listed at the pinnacle among statewide receivers, while making the top 40 nationally among schools posting to MaxPreps despite not playing in two games. Had he also played in those contests while maintaining his per game average, Graham would have stratified among the top ten nationally among schools posting to the MaxPreps matrix.
Xavier Fisher was another popular target among Jarrett Wilson's receiving corps, racking up over 600 reception yards over the course of the season. Fisher's official circa-200 receiving yards against Butte Central juxtaposed with Graham catches was the first time teammates have ever turned in dual 200 reception yards in the same game at the Class A level.
The emergence of Jarrett Wilson isn't something that materialize overnight. Behind the scenes can be found a combination of hard work, aptitude as well as pedigree. In addition to substantial dedication to a regimen of preparation during the offseason, Wilson's aptitude can be traced in part to a penchant to emulate his Pirate pedigree. Jarrett grew up among three other brothers who have played their share of backyard football over the years. Eldest brother Tanner quarterbacked the Pirates from 2014-16 before joining the UM Griz roster for a couple of seasons. Father Scott Wilson, current MHSA staff member and former Polson High principal, is a former quarterback himself (Missoula Big Sky, 1984-86) who coached the Polson Pirates football program for sixteen
seasons (2001-16). Witnessing such accomplishments as they unfolded over the course of the season were a marvel to behold. But far fewer had opportunity to witness such a unique display of Pirate passing proficiency on account of the pandemic climate with its associate precautions. With the core of the Pirate lineup returning intact next season, Pirate fans have something to look forward to with anticipation as to what subsequent seasons may hold.
Brian A Reed, Class A football statistician, has documented multiple factoids about Jarrett Wilson's inaugural season behind center at quarterback:
Only three players at the Class A level have surpassed 3,000 yards since 1990.
Ranks second among Class A for single season passing yardage (2016: Bridwell, 3901) · Occupies five places among the top ten list for single games with 400 yards passing.
Third-most single game passing yards in Class A history, most in 25 years.
Four times placed among statewide top twelve for passing completions (39,*41/37,34,32).
Most single game passing completions in 25 years of Class A state history (39/*41).
Reset Class A state record for cumulative pass completions (256+).
Four times placed among statewide top ten for passing attempts (60,54,53,46).
Reset Class A state record for cumulative pass attempts (429+).
One of just nine Class A players with 30 touchdown passes in a season.
One among five with multiple career six TD games.
Twice reset Polson school record for passing yardage.
Class A FB single season passing yardage (Brian A. Reed) Dakota Bridwell, C-Falls (2016: 238-401-3901-10-49td) 12gms Jarrett Wilson, Polson (2020: 256-429-3115-12-32td) 9gms* Carson Rostad, Hamilton (2017: 203-336-3079-7-39td) 12gms Dane Warp, Havre (2012: 181-298-2941-12-21td) 11gms Asterisk (*) denotes minor variation(s) may apply Class A FB single game passing yardage (Brian A. Reed) Chris Klein, BlgsC (1995: 38-66-624-2-7td) vs. Colstrip Chris Klein, BlgsC (1995: 30-55-523-3-6td) vs. Sidney Jarrett Wilson, Polson (2020: 34-46-519-0-6td) vs. ButteC Dakota Bridwell, C-Falls (2016: 37-63-464-2-2td) vs. Polson Jarrett Wilson, Polson (2020: 32-53-444-1-3td) vs. C-Falls Jarrett Wilson, Polson (2020: 39-60-441-2-5td) vs. Frenchtown Jarrett Wilson, Polson (2020: 28-46-439-2-5td) vs. Ronan Dane Warp, Havre (2012: 19-32-438-0-5td) vs. Lewistown Josh Link, Hardin (2006: 18-33-435-1-5td) vs. Belgrade Cade Baker, Frenchtown (2018: 23-41-432-4-6td) vs. Hamilton Jarrett Wilson, Polson (2020: 37-54-413-1-6td)* vs. Bigfork Craig Bagnell, Polson (2007: 17-31-310-2 -3td) vs. Stevi