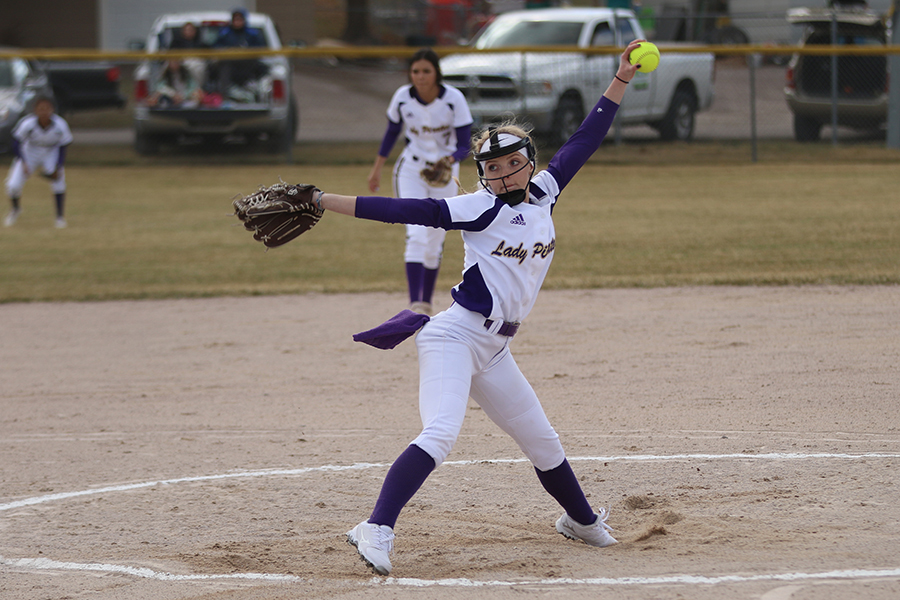 MISSOULA — Polson's softball players hung their heads as they stared down at the left field grass on Frenchtown's No. 3 softball field on an overcast, windy Saturday afternoon.
They had just ended a game without a win for the first time this season. They didn't lose either, but the looks on the players' faces sure made it seem like the Class A Pirates had lost when they finished in a 2-2 tie with Class B/C Mission-Arlee-Charlo in an extra-inning game.
Polson dropped to a still-impressive 11-0-1, a record that many teams around the state would love to have midway through the season. As they clapped their hands to break the postgame meeting, coach Jami Hanson had left them with a message that this was a result that should be beneficial going forward for the team that's widely considered the state title favorite in Class A.
"That's exactly what we needed," Hanson said. "You've got to have that adversity in games every once in a while because that's the only thing that makes you better. You want those games because you don't want to get to state and then get in your first dogfight and not know how to handle it. We can learn from this."
Polson isn't expecting to only get to state; the Pirates believe they're capable of winning state. They nearly did that in 2019, finishing as the State A runner-up while being powered by a large contingent of sophomores and being led by Hanson, who was in his first season replacing Larry Smith, who had led the Pirates to seven state titles in 31 years. They were hoping to make a return trip to the title game in 2020 before the pandemic canceled the season.
This spring, the Pirates have back one junior and four seniors who played big roles in the 2019 state tournament when they were underclassmen. That experience gives them a leg up on some of their competition, who lack similar numbers of returning starters, let alone that many players with any previous varsity experience, because of the long layoff since the last season.
"The expectations are high again. Absolutely," Hanson said, noting that he anticipates both his team and MAC to end the year with titles. "We expect big things. These girls have done a lot of work to put themselves in this position."
The Pirates have steamrolled their competition by outscoring them 189-17 through 12 games. They already own a 13-0 win last week over Frenchtown, the leader in the Southwest A, and an 18-6 win Friday over Lewistown, the presumptive champ in the Northeast A.
They also have a 10-2 win over Columbia Falls and a 12-0 victory against Libby, the two teams that were expected to be their toughest competition in their conference. The only other Class A team without a loss is Laurel, the leader in the Southeast A.
"I strongly believe that softball on our side of the state is tough. Really tough," Hanson said. "We just haven't seen a pitcher like (MAC's Kooper) Page, who spins the ball really well. We needed a game like this because we haven't gotten to see stuff like that yet."
Polson is powered by five seniors in Josie Caye, SaVanna Carpentier, Kobbey Smith, Lexy Orien and Mossy Kauley. Caye was an all-state shortstop in 2019, Carpentier and Smith were all-conference honorable mention picks, and Orien started in the 2019 state tournament.
Polson also has the pitching prowess with junior Katelyne Druyvestein, who's been the team's ace after she was second-team all-conference in 2019. She's started all 12 games and has allowed just 10 runs on 30 hits while striking out 84 compared to 15 walks. The two runs she allowed against MAC were both unearned as a two-out error led to them ending the game in a tie.
"She's a really good pitcher, moves the ball around, has a nice curve, her rise ball is really nasty," MAC coach Shane Reum said after the tie. "She's a really seasoned pitcher and has a really good defense behind her as well. They're just an all-around solid team."
The Pirates will now test themselves by playing up a classification against Class AA teams Glacier and Flathead on Tuesday and Thursday. It'll also be a chance for them to see how they bounce back from not winning a game as they continue preparing themselves for the state tournament May 27-29.