LANCE HARTZLER Missoulian [email protected] Oct 13, 2021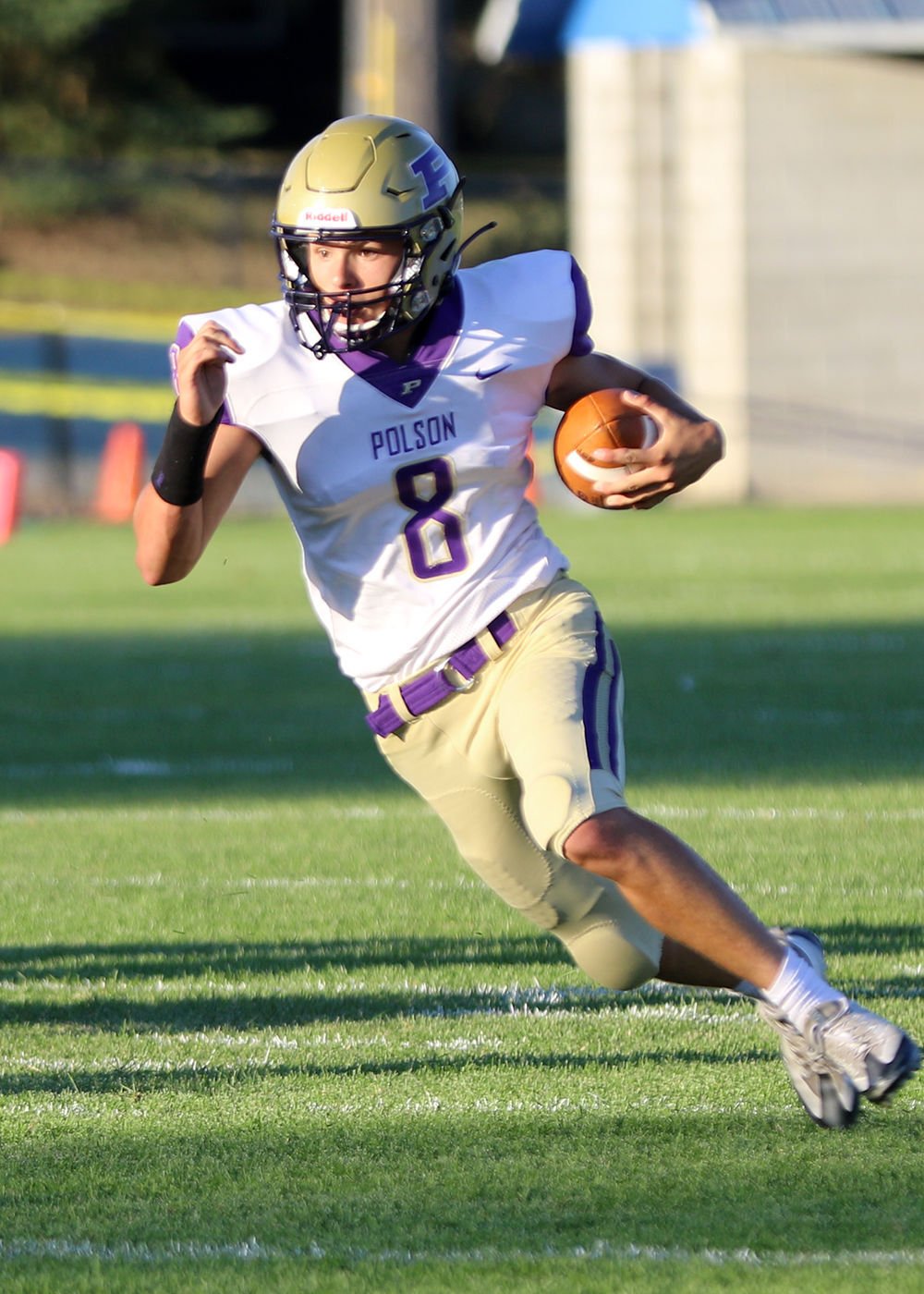 MISSOULA — Polson Pirates star quarterback Jarrett Wilson has recorded some eye-popping passing numbers this year, but last week against Havre, the junior slinger did something different that wowed both his head coach and fans in attendance.
On the first play of a drive, third-year Pirates head coach Kaden Glinsmann and his staff called a deep pass play to try to catch the Havre defense off guard. That makes sense considering the Pirates run a shorter passing scheme centered around Wilson's accuracy — 72% at the moment — and the speedy wideouts who flank him in the offense.vrd line, Wilson dropped back and immediately noticed the blown pass coverage. He slid to his left around a rusher and blew past the rest of the Havre defense for a season-best 80-yard touchdown run.
"I saw a hole and they were in man coverage and thought that I would get, I don't know, at least 10 yards," Wilson said Monday during an interview. "I wasn't really thinking I would get 80, which was exhausting honestly. … I was so tired and, like, oh my gosh I hadn't ran that far since track season."
The game ended with a 42-14 Polson win as Wilson threw for 301 yards and five TDs to keep the Pirates undefeated at 7-0.
Playing the way Polson does, with the high volume of throws, the scramble drills are bound to come. So the team does practice it, but not as much after doing it "a ton" last season, only brushing up on it during the fall camp because of the eight upperclassmen who returned at receiver.
Glinsmann embraces Wilson extending plays. He trusts the young quarterback, who is disciplined about those freelance plays in a way some slingers might not be. Wilson doesn't really look to run, with 35 carries on the season — the burst against Havre excluded. He looks to get the ball to a deep group of receivers when he breaks out of the pocket and eludes tackles.
"We're thinking we are coaching this high school kid, so we are teaching him these high school-type football situations. Instead, he is next level," Glinsmann said. "He is thinking about 'I wouldn't slide there because it wasn't this exact right situation' or 'I wouldn't take off because it wasn't this situation.' … He is just thinking leaps and bounds ahead to even where we would as a staff."
Glinsmann called Wilson's football IQ through the roof and his accuracy uncanny, and the stats back his claim up. Wilson has thrown for 34 touchdowns, zero interceptions, 2,087 yards on 347.8 yards per game and has a QB rating of 144.3 — a perfect passer rating is 158.3 — and he has been as close to perfect as a quarterback in a pass-heavy offense can be. He leads 11-Man football, regardless of class according to stats compiled on MaxPreps.com, in passing touchdowns, yards, yards per game and is the only QB with at least 100 passes thrown without an interception.
It's safe to say the junior, in his second year starting as the Pirates QB, is in the middle of a massive breakout season.
"He is just one of those special, once-in-a lifetime type guys that you get coming through a program. We are just so fortunate to have him and thankfully have him for another year." Glinsmann said.
If you ask Wilson about his talent he is soft spoken and humble. He knows what he is doing but gives credit to his coaches and teammates.
"I don't know about that," Wilson said about his coach's comments about his abilities. "He is just hyping me up, maybe a little too much. … I'm not just better, but our team is a lot better too. Our coaches do a good job of easing our offense to spread the ball out. It makes it a lot harder on defense when they have to worry about several guys catching the ball, not just one guy. I have a good relationship with all of them, we are all really good friends, and we've worked hard together starting in my sophomore year and from then our relationship has just grown."
This season, five Pirates have caught at least 15 passes, and a trio of seniors have caught at least 31 to give the team a three-headed attack at the top of the depth chart. Colton Graham has 38 receptions, 648 yards and nine TDs, Xavier Fisher has 33 catches for 448 and eight touchdowns, and Robert Perez has 31 snags for 433 yard and five scores.
Football in the family
Wilson is a triplet, with his two brothers, Trent and Colter, manning the defense at linebacker. But the football bloodlines go even further for the trio.
Their eldest brother Tanner Wilson — who was a quarterback for the Montana Grizzlies in 2017 and 18 before leaving the team in spring 2019 — was a star for Polson, leading the Pirates to their most recent winning season in 2016 when the squad went 7-3 and won the Northwest A title playing under their dad, former Missoula Big Sky QB Scott Wilson.
"Everybody grew up around football," Scott said Wednesday. " … Growing up, the triplets had football, whether it was practice, going to games, following big brother around, all of those things."
While Scott, now an MHSA assistant director, never coached Jarrett, Trent or Colter at the high school level, the former Big Sky player and at one point coach will impart some advice to his sons.
"He is still just as much as a head coach as he has always been," Jarret said. "I never had him as my head coach, but he is still giving me pointers."
Pirates resurgence
The last time Polson was this good was in fact when a Wilson was the quarterback. Things have come full circle so to say.
Jarret led the team to a 4-5 record last season as a sophomore, and now the team has exploded with newfound dominance.
The Pirates are in the middle of their best season, even better than Tanner's 2016 team, since going 9-1 in 2012. The current edition of the Pirates are 7-0 with two games left against Browning and No. 5 Whitefish (7-0) in the regular-season finale in Whitefish.
The Pirates have outscored opponents 307-48, with the closest game coming against Columbia Falls, which ended as a 37-0 shutout in favor of Polson.